Responsibilities
Cell adhesion
Integrins
bone metastasis, collagen, dentin, tendon
bone marrow derived stem cells
AFM
single cell adhesion force measurements
Contact
Lehrstuhl für Angewandte Physik
und Center for NanoScience
Ludwig-Maximilians-Universität
Amalienstr. 54
80799 München
Room: 006
Phone: +49 (0) 89/ 2180-3133
Fax: +49 (0) 89/ 2180-2050
Email: ediz.sariisik@physik.uni-muenchen.de

Education:
2008
Bachelor, Molecular Biology and Genetics (METU), Ankara, Turkey
2010
M.Sc., Biology (Biophysics), (METU), Ankara, Turkey
2016
Dr. hum.biol. Medical Sciences and Biophysics, (LMU), Munich, Germany
Further Information
Publications: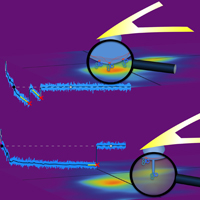 Decoding Cytoskeleton-Anchored and Non-Anchored Receptors from Single-Cell Adhesion Force Data
Ediz Sariisik, Cvetan Popov, Jochen P. Müller, Denitsa Docheva, Hauke Clausen-Schaumann and Martin Benoit
Biophys J. 2015 Oct 6;109(7):1330-3. doi: 10.1016/j.bpj.2015.07.048
Complementary to parameters established for cell-adhesion force curve analysis, we evaluated the slope before a force step together with the distance from the surface at which the step occurs and visualized the result in a two-dimensional density plot. This new tool allows detachment steps of long membrane tethers to be distinguished from shorter jumplike force steps.... more PDF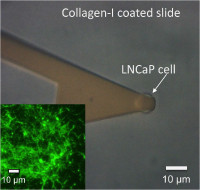 Probing the interaction forces of prostate cancer cells with collagen I and bone marrow derived stem cells on the single cell level.
Sarıısık E, Docheva D, Padula D, Popov C, Opfer J, Schieker M, Clausen-Schaumann H, Benoit M.
Published: March 5, 2013 DOI: 10.1371/journal.pone.0057706, PubMed PMID: 23472100

Adhesion of metastasizing prostate carcinoma cells was quantified for two carcinoma model cell lines LNCaP (lymph node-specific) and PC3 (bone marrow-specific). By time-lapse microscopy and force spectroscopy we found PC3 cells to preferentially adhere to bone marrow-derived mesenchymal stem cells (SCP1 cell line)... more PDF